Here you will find some basic info about having your wedding dress or wedding suit altered, FAQs and a few words from past clients.
Because of my training in design, pattern drafting and couture sewing and years of experience, my services are in high demand.
Please read through the information and fill out the form below to get started
Services Offered:
Custom dress (please contact me)

Re-designs for wedding dress: adding sleeves, adding lining, building internal bra/corsets, changing necklines, etc

Full recut on suits- this is when the suit is the wrong size and almost every seam needs adjusted. Applies to both the jacket and pant

More common suit alterations: hems, seat, waist, taking in back, sleeves, adjusting shoulder, adjusting collar

Wedding dress hems and bustles

Adjusting the bust on dress, adding/subtracting boning, adding cups
For us she tailored a 2-piece suit, wedding dress, and reception dress. Initially I didn't think I needed any alterations on my wedding dress, but after Krista pinned a little here, and tucked a little there, she made it look like a dress that was made for me! To the suit pants she added piping to have it match the jacket, and tailored the jacket to fit like a glove. She managed to take off the rack items and make them look like they were made for us. All of this happened during her busiest time of the year. She was easy to reach to make appointments, and incredibly professional! We continue to use Teton Tailoring for all of our garment alterations!
Rosie Reed and Shelby Combs, Jackson WY
Frequently asked questions
How does it all work?
For some of my brides this may the first time having a garment altered. It will probably be the most intensive garment alteration for most people. The first step is to book a 'Wedding dress consultation'. This is a time for us to discuss your goals with the dress and alterations that need to be preformed. We will also discuss appropriate undergarments needed for your dress to look its best and recommendations on where to buy them. I will make notes of needed alterations and keep the dress for a few days to look at it in greater detail. I will then write up an estimate for you to review. The consultation and written estimate is $45 which is paid when you book the appointment. If we decide to work together the $45 is applied to your final invoice. If you choose to go with my services we will then sign a work agreement and get a first fitting scheduled for you. A deposit of 50% of the estimated charges is due at the first fitting.
Undergarments are required at the first fitting and cannot change once the alterations start. If you feel a different undergarment is needed it could add additional charges to the final cost.
You should expect a minimum of 2 fittings in addition to the consultation. Normally 3-5 fittings are customary, lasting anywhere from 10mins up to an hour depending on the amount of work needed.
Hemming the dress and deciding on the bustle, if your dress needs one, are the last decisions for a dress. You don't need to know these answers when you come in for the first few fittings. We can discuss options as we work through the other alterations needed.
Once your dress is finished and ready for pickup, I do ask that you try on the dress at the final fitting. It can be helpful to have a friend or family member present to review how to bustle the dress. If someone other than the bride is pickup the dress, please let me know before the final pickup.
To set up a 'Wedding dress consultation' please fill out the form below, submit and click the blue button to schedule a consultation.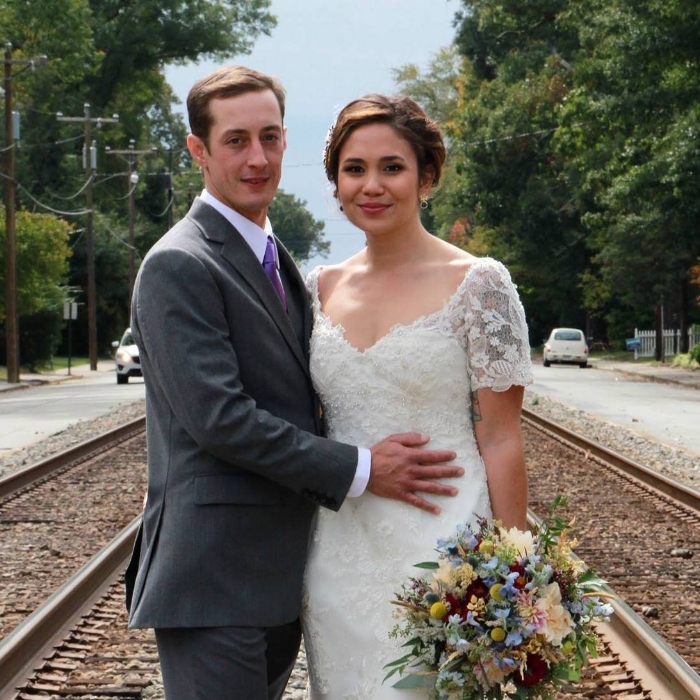 "A friend of mine referred me to Krista and I'm so glad she did.

She performed a miracle on my wedding dress. I had sleeves added to my dress but the sleeves weren't adjusted to fit me yet. Krista was honest, she was fair and she was realistic, all traits that make her a fantastic seamstress and business woman. She had great suggestions and made the process so painless. On top of helping me with my wedding dress, he made sure that my husband look dapper in his suit. Since she knew that both our outfits were meant to be a secret, she was very sweet to keep that in mind when scheduling both our fittings. Thanks again for everything!"
Heather and Mike Jackson WY
Hi, I'm a dude, or a bride wearing a suit or some other alternative attire, what do I do?
Please fill out the form above, submit and click the blue button to schedule a 'Groom 1st Fitting' . This will give us time to discuss your wedding day needs.
How long does it all take?
Normally I ask for 2-3 months to alter a wedding dress. Earlier is always better! In some cases this timeline can be adjusted. I understand that life continues to happen as you plan your wedding, though it would be so nice if it stopped. Dates change, family members get sick, vendors cancel, etc. If you find yourself in a situation where you need your dress or suit back sooner than we had discussed please let me know ASAP. I will try my hardest to accommodate your change request but additional fees may apply.
If your wedding is in less than 3 months and you still need to have your dress altered feel free to reach out to me, but I may not be able to accommodate your needs. My services book up very quickly and I only accept a limited number of brides each year to give them the best service I can provide.
Suit alterations can normally be done much more quickly, 4-6 weeks is normally what I ask for. Please remember my services book quickly, so please do not wait until the last minute to contact me.
How much will it cost?
This is one of the most basic questions, but the hardest to answer. Brides will receive a written quote after our consultation for you to review and approve. Grooms and I will discuss cost during our first fitting. Grooms do not typically receive written estimates unless specifically requested. I never give a quote without a consultation or fitting. This is to ensure the most accurate price quotes. Please do not ask me for a price quote over the phone.
Wedding dress alterations do have a minimum of $250. This includes a consultation with a written estimate and the minimum 2 fittings.
But I don't want to spend more than I paid for the dress….
Unfortunately this is very common concern. The price of your dress has nothing to do with the price I have to charge in order to run my business. And yes, you may spend close to, equal to or much more than the price of the dress on alterations. If you have a budget number in mind when you come in please inform me of it. That way we can prioritize the alterations to work within your budget. In my professional opinion, an inexpensive dress with good alterations will ALWAYS look better than an expensive dress with half-assed sewing work!
Deposit?
Yes, I do require deposits. For brides a deposit of 50% of the quoted price is due at the first fitting. For grooms the deposit is also required at the time of first fitting and will be about 50% of the estimated total cost. For a small alteration under $40 no deposit is required and the final bill can be paid in full at time of pickup.
Can I just get your opinion on something...
Yes, I love discussing questions, concern and ideas about a dress, veil, etc. I do charge for consultations if I don't do any sewing work. My consultation rate is $30 for up to 20mins. If you want a consultation and a written estimate for a wedding dress alteration there is a $45 fee if I do not do any sewing work. Both of these rates are waved if I perform sewing work on the garments discussed.
Can I just walk-in with my dress for a fitting?
No, I do require all wedding dress fittings to be scheduled in advanced. This is to ensure I have no other time conflicts and can give you my undivided attention.
Okay I'd like to book an appointment now….
Please fill out the form below and submit. A link will take you to 'book an appointment now', please go ahead and schedule one. If you need a day/ time not available, let me know and we can figure out a time to get you in
"I can't say enough wonderful things about working with Krista
She completed the alterations for my wedding dress in less than a month and did an amazing job. When I found my dress, I loved the lines and the simplicity of it. It was just what I had in mind, but it didn't really fit my body the way it should. It was too big in places, the waist was too low, and since it was strapless, I had to pull it up every five seconds. Within the first fitting, Krista was able to see where the dress needed to be altered in order to make it look and feel perfect. By the third fitting, my dress fit like a glove, looked amazing, and I didn't have to fidget with it. Though there are always wedding day stresses, thanks to Krista, my dress wasn't one of them. She was so easy to work with, listened to what I wanted, gave her honest opinion when I asked, and did an absolutely beautiful job. And on top of it all, her rates are very reasonable. If it's quality you're after, Krista is the one for the job."
Nora Schwartz Jackson WY